---
RHS Flower Show
---
RHS
best dressed window

competition

Every year Tatton Park hosts an RHS flower show, it is a large and popular event that often attracts national media coverage. The flower show becomes something of major theme throughout the town with many residents and businesses taking part. Knutsford is festooned with floral decorations, displays, and imaginative floral versions of familiar business signs and logos.

Each year there are several different competitions that anyone can take part in and others that are specifically intended for businesses. This year there was a Best Dressed Window competition for shops, hotels and restaurants. The 'window' could also be an open public space if, like us, a business didn't necessarily have a window frontage on to the main street. Naturally, our award winning courtyard was perfect for this and as one of Knutsford's most well known garden restaurants we simply had to take part.

Our window display in the courtyard featured the beautiful and evocative poem "My Garden of Love and Memories" by unknown.


A garden with the sweetest breath,
A summer breeze and fond memories,
Of my true love, my best friend,
When I care for my flowers I am caring for you,
When they blossom, they blossom for you,
I tend them and mend them every morning and night,
Until winter rushes by and my garden sleeps tight,
So sad to see, just like Covid it should leave us be.
As winter passes,
I gather my strength,
And kneel as the spirit of the spring awakens my love once more
I know you await for this garden we both adore,
for its sweet breath and summer breeze,
To once again connect us just as before.

By unknown.
Distinction
There were many fantastic windows and displays in Knutsford this year. Our display won a distinction and we would like to offer thanks to all those who voted for us.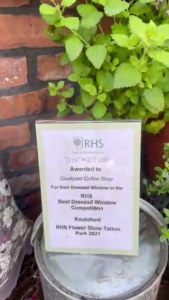 The flower show may now be over for another year but our award winning courtyard continues to be a very pleasant setting for a relaxing meal, drink and chat with friends. We still have plenty to see and our little garden is continuing to flourish.
Don't forget to call us on 01565 653974 to pre-book a table and we look forward to seeing you soon.
See more about this years RHS flower show at Tatton Park